Need to secure your public cloud infra?
Use Kloudle to secure your cloud infra without expensive security experts
Adds much needed security expertise while saving you 180+ hours per engineer.
---
Kloudle answers 3 critical questions you will have when taking care of cloud security.
Built for Engineering Teams
How does Kloudle Work?
Step 0 - Onboard your cloud account using a wizard
Kloudle relies on industry standard read-only permissions to your cloud account.
Step 1 - Fetch all assets in your cloud accounts
Kloudle scans all your cloud accounts peridically. You can see all your cloud assets in a single dashboard.
Step 2 - Identify security misconfigs & risks
Evaluate if the misconfigurations are a risk for you. We keep updating the list of misconfigurations as attackers evolve.
Step 3 - Fix the security misconfigs
Plug the security gaps by fixing the misconfigs as per cloud providers best practices.
Step 4 - Apply Security Policies
Finding & fixing the same misconfigs is a drag. Enforce security policies automatically based on changing needs.
Repeat in loop
Cloud configs change with needs. Kloudle repeats the above 4 steps. 24x7x365.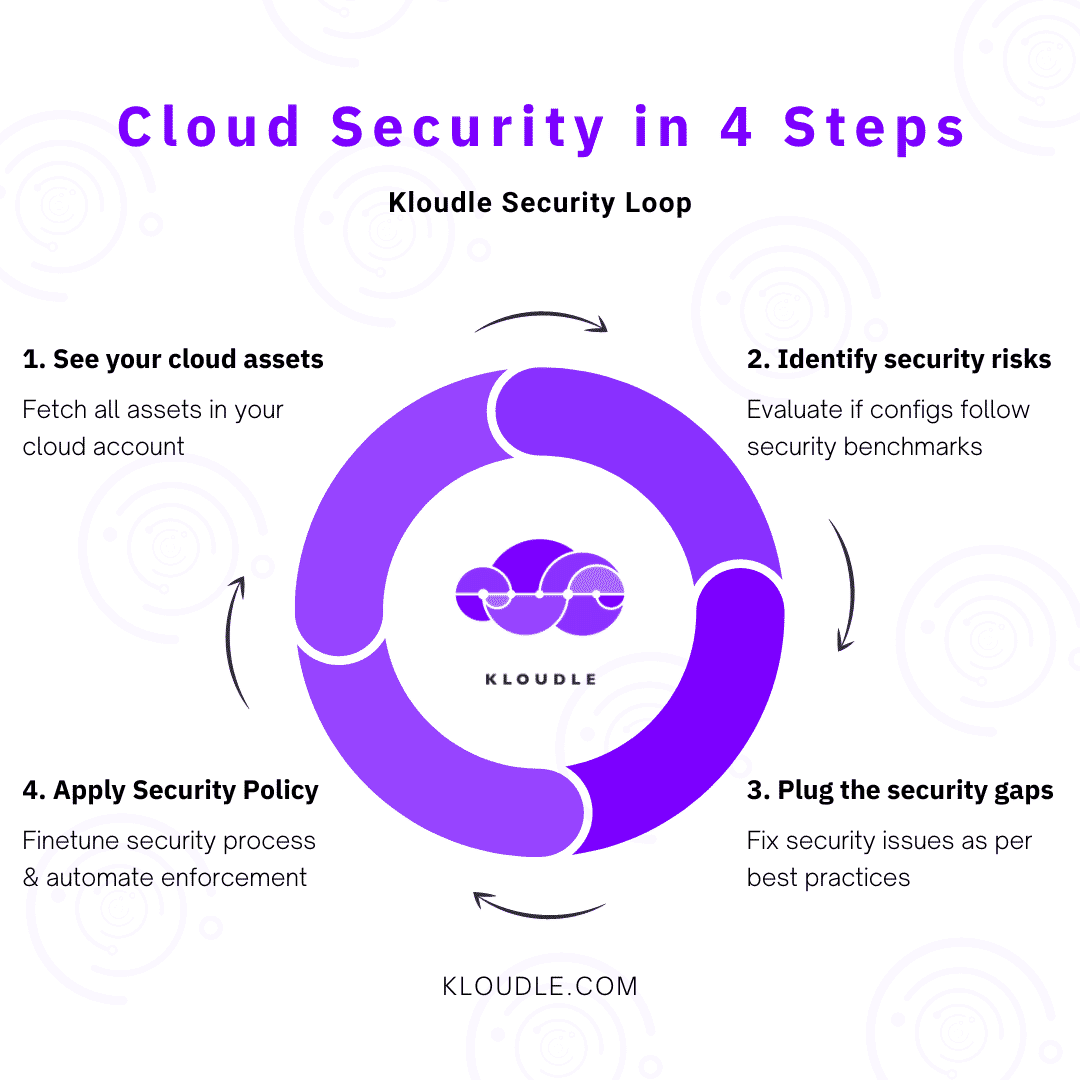 Cloud Integrations
Supporting the Cloud Stack for Modern Teams
150+ cloud services supported for the best visibility coverage
Support for BitBucket, Snowflake, Oracle Cloud.
Built for Engineering Teams
Who should use Kloudle?
Kloudle is for engineers & builders
Use Kloudle when you want to give away the headache of keeping track of misconfigurations that creep in while building out the infra to support your product and APIs.
Use Kloudle to gain visibility of all your cloud accounts, assets and their misconfigs. Get step by step guidance on how to fix them. If a misconfig is not a risk for business, simply disable checking for it and avoid alert fatigue.
Not built for SOC Teams
Kloudle is not built for SOC teams. If you are looking for real time monitoring of security issues in your cloud accounts and your team has the bandwidth to sort through thousands of alerts Kloudle is not the right choice.
visibility
Answer what's running and what's wrong

You are growing all the time. More engineers, more servers, more buckets. All that is great but your reporting on assets hasn't kept the pace. Use Kloudle to see all assets in one place. See which assets have security misconfigs. What's new, what's changing, who are the owners.

Security Champion
How to fix the misconfigs?

Your team is talented but you know that security expertise is missing. You need guidance on how to fix the security misconfigs so that they stay fixed. To build alignment you need to explain technical impact and the potential risks to business.

Remove Toil & Human Errors
Automate security enforcement

Security tasks and processes need to be automated for cloud-native teams. They don't want to waste time on cloud infra that doesn't add any value to their users. Kloudle lets you automate many security related processes like alerting, notifications, remediation actions and other security hygiene activities.
Customers
Fast Growing Startups ❤️ Kloudle

High performing teams with 100% focus on their customers handover their cloud security headaches to Kloudle

Subho Halder
CTO & Founder - Appknox
Kloudle is the best thing since sliced bread. I love the beyond compliance coverage of cloud services. With security processes automated, we save 180 man hours in a year. What is not there to ❤️!
Rahul Sasi
Founder - Cloudsek
We are a hybrid team with a bulk of our work happening in Jira and Slack. We ❤️ that Kloudle lets us work where we work. Always updated visibility of all our assets in AWS is indeed a superpower for my team.
Lavakumar Kuppan
Founder - DomDog
I don't keep admin access to my Digital Ocean instead Kloudle gives me a complete view of what's running. It is an absolute relief to be on top of cloud infra security. It is fully automated and painfree. I ❤️ it.
Ankush Jain
Founder - Akto
Kloudle lets my team focus on infra setup. As that happens and Kloudle shows us misconfigs the team learns what not to do again. Kloudle is teaching my team while they use it.
Smita Malipatil
CEO - Appsecco
Kloudle is good cloud monitoring solution for small teams, start-ups. We ❤️ the easy self serve model, clean interface, intuitive buttons and links. The security score gives us a picture of our overall state of cloud security. Misconfigurations have technical details given as well as information about risk and business impact if exploited.
Salil Panikkaveettil
Founder - AdNabu
Vulnerability assessment for all your Google Cloud Assets. Kloudle gives me a total score out of 100 which helps my team improve the score month by month and ensure our cloud assets are secure. Mitigation for every issue is easily provided. Very extensive library of common misconfiguration. They also have Google Cloud CIS benchmarks. It helps us be compliant with Google's security recommendations.
Frequently Asked Questions
What do I need to start?
Sign up. Create a workspace for your team and onboard your cloud account.
No payment details requried, once you get started you get 7 days free trial on us.
How long does it take to get started
23 minutes from signup to seeing results.
2 minutes to signup, 5 minutes to onboard your cloud account and 10-15 minutes for results to start showing.
In less than 30 minutes you will go from reactive security to an easy to understand security score.
How do you connect our cloud accounts to Kloudle?
Kloudle relies on the cloud platform APIs. We ask you to create a read-only user for Kloudle with specfic permissions.
Which cloud providers do you support?
Kloudle supports AWS, Google Cloud, Digital Ocean, Kubernetes, GitHub, Cloudflare, Mongo Cloud
Which compliance does Kloudle support?
Kloudle comes with out of the box support for all major CIS benchmarks for AWS, Google Cloud, Kubernetes. Along with that we know that in the dynamic environment of cloud providers there are many who don't have a CIS benchmark yet. We provide extensive coverage with NIST Cyber Security Framework mapping in such cases.
Kloudle has a professional membership of the CIS Benchmarks.
Do you support slack?
Absolutely! Kloudle works where you work. We support Slack and Jira apart from email.
Kloudle's API-first design makes it easy to extend and integrate into existing systems. It is also integrated into popular third-party technologies like Jira.
How do you keep my data safe?
Kloudle only ever reads the meta data about cloud assets. It never reads inside either your source code, buckets and servers. Along with this
1. Kloudle is SOC2 certified.
2. Developers don't ever touch production servers. All deployments are done using automated pipelines.
3. Your cloud keys are stored directly in Google Cloud Secrets Manager.
4. Data is encrypted in transit with TLS and at rest with AES-256-bit encryption keys.
How do I get customer support?
Over slack. Once you subscribe, you will get access to the Kloudle Platform Security team for support and guidance.
What if you don't support the cloud service I use?
Tell us which cloud service we don't support and we will add it to the product in 2 working weeks.
Full list of misconfigs we support
$2000+ value - 7 days free
No payment information required to get started. No manual onboarding.

Risk Free Trial!

Your cloud account data automatically deleted 15 days after trial expiry.

* That is more than 1 man month!

;